e-Residency

e-Residents can
Establish a company online
Start a company 100% online from anywhere in the world
Access business banking and online payment service providers, such as PayPal
Be the full owner of your company. No local director needed
Manage remotely
Sign and authenticate documents anywhere
Encrypt and send documents securely. No more scanning and posting!
Easily declare taxes online
Achieve location independence
Continue operating your company online while traveling
No need to re-establish your company after moving abroad
Focus on your passion, not paperwork
How to apply for e-Residency
Gather documents for application


Required documents for application

A copy of your government-issued ID
A passport-style digital photo
Motivation statement
Visa or Mastercard

Submit your application using the secure online form


Submit your application using the secure online form

Submit your application
Pay the €100 state fee with Visa or Mastercard
Receive confirmation email after successfully submitting application

Wait for your application to be approved and processed


Wait for your application to be processed and approved

Application processing period is 30 days
Once you have submitted your application, the Estonian Police and Border Guard Board will conduct your background check to ensure the safety and trust of the e-Residency programme
The Estonian Police and Border Guard Board may request further information during the background check

Receive confirmation that your application was approved


Receive confirmation that your application was approved

After the background check has been completed, you will be notified by email whether your application is approved
If you are granted e-Residency, you will be invited to pick up your digital ID card from your chosen location

Pick up your digital ID card in person from your chosen pick up location


Collect your digital ID card in person from your chosen location

Bring the same identification document you entered in the online application form
Submit your fingerprints to the consular or police official
Pick up your e-Residency kit, including digital ID card and card reader
Please keep in mind:
You must pick up the card at an Estonian embassy or consulate, or inside Estonia.
If you do not have a pick up location in your country, you can arrange to pick up the card in another country.
e-residents receive a digital ID card that provides:
A government-issued digital identity
Secure access to e-services
Digital signing and authentication of documents
The digital ID card and e-services are built on state-of-the-art technological solutions, including 2048-bit public key encryption. The digital ID card contains a microchip with two security certificates: PIN1 for authentication and PIN2 for digital signing.
The digital ID card is not a physical identification or a travel document, and does not display a photo.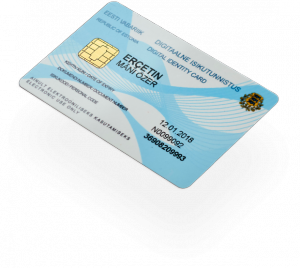 Start using your digital ID card
Everything you need to operate online as an e-resident is provided in the e-Residency kit – your digital ID card and a card reader.
Make sure your digital ID card is active
Insert the digital ID card document number here to check.
Install digital ID card software
Download from here
Insert your digital ID card into card reader
You are now ready to use your digital ID card to establish a company online and use e-services available