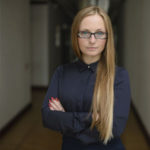 Liudmila Surma
Senior Partner
Advocate
International advocate in Slovakia and Poland
International mediator in Germany (Upper Bavaria), Poland, Belarus, Ukraine
Liudmila Surma has extensive experience in jurisprudence, mediation and teaching. As a lawyer, he actively practices in the field of commercial and migration law, as a mediator, he deals with the resolution of commercial, family and cross-border disputes.
She is constantly improving her qualifications both as a lawyer and as a mediator.
Liudmila Surma is also engaged in scientific activities in the field of mediation, commercial law and education. She is the author of over 30 scientific articles, co-author of a monograph.
In addition to her professional activities, Liudmila Surma is engaged in poetry and is a poet. In 2019 she published her book of poems "To love is to live…".
Education:
Belarusian State University, Faculty of Law (Minsk, Belarus), Master of Laws, 2006.
State University of Comenius, Faculty of Law (Bratislava, Slovakia), Master of Laws, 2016.
State University of Comenius, Faculty of Law (Bratislava, Slovakia), Doctor of Laws, 2017.
Institute for retraining and advanced training of judges, prosecutors, courts and justice institutions of the Belarusian State University (Minsk, Belarus), certificate of advanced training for a mediator, 2021.
Languages: Slovak, Polish, German, Russian, Belarusian, Ukrainian.