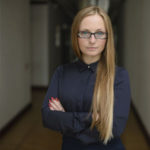 LIUDMILA SURMA
Partner, Doctor of Laws, international mediator, lawyer
l@officium.law
+421 944 993-083
Main specialization:
Commercial, migration, banking, family law Slovak Republic, international law and EU. Mediation.
Liudmila Surma – managing office of AU "Officium" in Bratislava (Slovak Republic). The main areas of activity are commercial, civil migration, banking, family law in Slovakia, which leads to effective representation of the interests of Ukrainian companies in this jurisdiction. From starting a business to enter the Bratislava Stock Exchange (BSSE).
Liudmila Surma in extrajudicial settlement of disputes and conducts the mediation in Ukraine, Germany (Munich and Upper Bavaria), Belarus and is a certified mediator in these countries.
Liudmila Surma also engaged in scientific activity in the field of mediation, civil and commercial right.
Education:
Belarusian State University (Minsk, Belarus), Faculty of Law, 2006
Comenius University in Bratislava (Bratislava, Slovakia), Faculty of Law, 2016
Comenius University in Bratislava (Bratislava, Slovakia), Faculty of Law, 2017,Doctor of Laws
Languages: Russian, Slovak, Polish, German, English, Belorussian